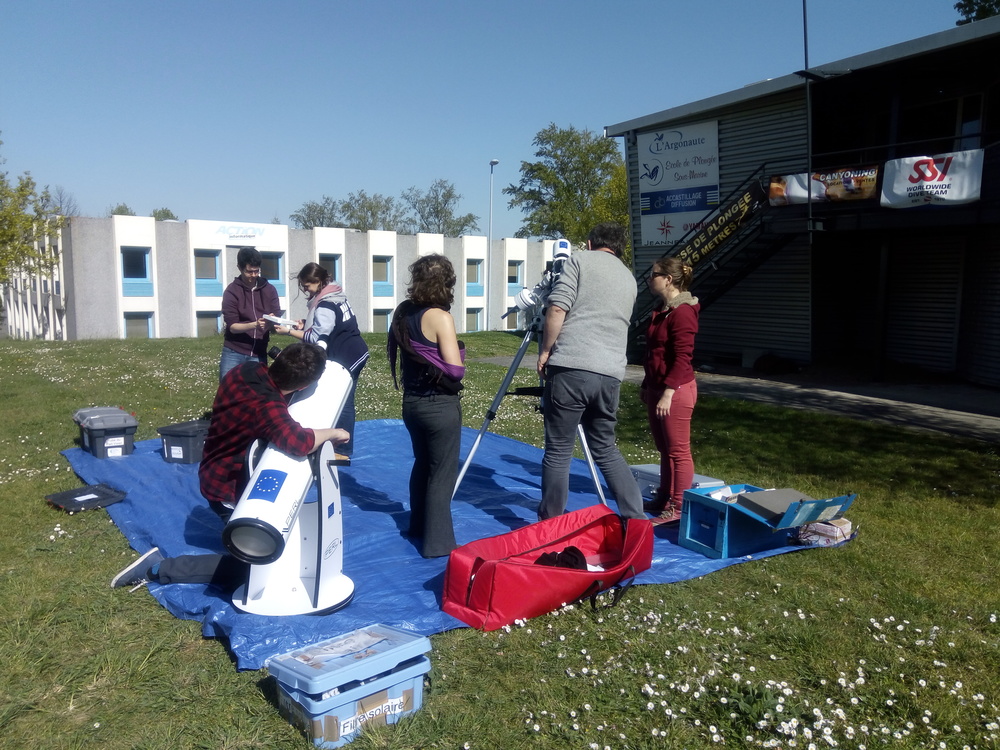 I volunteer time towards promoting and popularizing science and technology for children, young adults and among the general public through various events.
Since the beginning of the covid pandemic, I've been doing outreach online:
I designed and delivered astronomy classes:
I animated booths during outreach events for the general public:

Trophées de la robotique: I staffed a stand where visitors could have a hands-on learning experience in programming and robotics.
For the commemoration of the 50th anniversary of the first moonwalk "On the Moon Again", I presented experiments on the phases of the Moon.
During the Ciel en fête event, I ran a booth were children could build and launch a water rocket.
Since 2016, I have held a star-gazing stand at the "Nuit des étoiles" every year.

I gave in-person talks:

The Rencontre des Jeunes Mathématiciennes à l'ENAC is a three day event where high school students get the opportunity to learn about math and science in an informal context. I gave a seminar on galaxies (slides here) and a visit of the planetarium to high-school students.
For the ENAC astronomy club, I gave one talk on dark matter and another one on sismology.

I provided scientific support for groups of elementary and middle school students:

From 2016 to 2017, I provided educational support during the "Jeunes Talents Mathématiques", a summer camp for middle-school students.
I accompanied a class for the Huitième Congrès Scientifique des Enfants .

I also did outreach in a few other formats:

Ciel en fête: I was the planetarium presenter for elementary school students.
I was a member of the jury for the math tournament "Tournoi français des jeunes mathématiciens et mathématiciennes" in 2017.
During the "Semaine de l'Europe 2018", I hosted a workshop on the satellite Sentinel 3 for elementary school students.
I provided scientific advisory for the MMORPG Khaganat.
I led guided tours of the Geneva Astronomical Observatory.